There's truly no place like New York City. Few places in the world inspire much awe and command unfailing attention as the city that never sleeps. This de facto capital of the world is a draw for a variety of homebuyers, including those who will spare no expense to find the
best luxury condo in New York City
. That's where
The Bracha Team
at Corcoran comes in. They'll walk you through the key steps in selecting the best luxury condo. In NYC, you'll find yourself spoilt for choice when it comes to your
luxury real estate
options. Hopefully, this guide will help you make the choice that feels right.
A snapshot of NYC's luxury condo market
When it comes to condominiums, buyers are often loath to invest in a living space where
space
is usually not the main draw. This is especially the case now that pandemic fatigue has made buyers prioritize extra square footage and more amenities. But as you explore
luxury condos in NYC
, you'll find that space won't be an issue. In terms of square footage, two-bedroom luxury condos in NYC with over 3,000 square feet of space are plentiful. And when you add 10,000 to 40,000 square feet amenities, that's more space for work and play than the average American home. Stellar views, graciously appointed units, and five-star hotel services are some of the staple elements of luxury condos in NYC. Most often for the discerning luxury buyer, the only question left to answer is which particular property to choose and how to go about it in a city that's so diverse and full of character. Let's dig into it.
Know your way around the five NYC boroughs
New York City is a massive metropolis divided into five main areas or boroughs:
Manhattan
,
Brooklyn
, The Bronx, Queens, and Staten Island. Each borough has a distinct vibe and quirk which New Yorkers take immense pride in. Here's what you can expect to find in each subsection of NYC.
Manhattan
The wealthy and influential flock to the busy and vibrant heart of NYC. Manhattan is the home of beautiful Central Park, the iconic Times Square, and musically-inclined Broadway. This is also the most populated portion of the city with over 1.6 million residents. Manhattan is ideal if you want to be near the financial and economic powerhouse that is lower Manhattan, as well as a great collection of art and cultural spaces. There are several well-to-do neighborhoods here, from Gramercy Park and
Greenwich Village
to the vibrant communities surrounding Central Park.
Brooklyn
Home to foodies, artists, hipsters, and those who are simply attracted to the finer things in life, Brooklyn is in a league of its own. As the cultural mecca of the five boroughs, expect to find a diverse range of people, cool hangouts, excellent restaurants, and charming open spaces. Crown Heights and Forte Greene are some of the most sought-after communities in the borough. Sports fans will particularly relish the opportunity to see the Brooklyn Nets in action at the Barclays Center. And although NBA games are the main draw as far as sports are concerned, Brooklyn is also prominent for producing a slate of world-class athletes such as Mike Tyson (boxing), Vince Lombardi (football), and Joe Pepitone (baseball).
Queens
Endlessly diverse, Queens constantly finds new ways to delight out-of-towners and even longtime residents. From its dynamic food and restaurant scene to its beautiful parks and museums, this is a borough that a lot of tourists and home buyers flock to. Queens is located east of Manhattan and to the north of Brooklyn. Some of the best neighborhoods here include Forest Hills, Astoria, Ridgewood, and Long Island City.
The Bronx
With an alluring tapestry of cultures from different eras, The Bronx is steeped in essential NYC history. Famously known as the birthplace of hip-hop, this northernmost borough in NYC is where you'll also find many historic homes and expansive estates from the Gilded Age. The Bronx also attracts food connoisseurs and nature lovers as well. Head over to Little Italy to sample authentic Italian cuisine. Or, revel in the various plant species you'll find in the New York Botanical Garden.
Staten Island
Not much goes on in Staten Island, but for people who prefer a relaxed and suburban atmosphere, this borough is blissful. With less than half a million residents, Staten Island is also the most disconnected from the four boroughs. Commuting by ferry or bus are the only options as there is currently no existing subway line. Sought-after neighborhoods in Staten Island include Todt Hill.
Make a shortlist of the best neighborhoods for luxury condos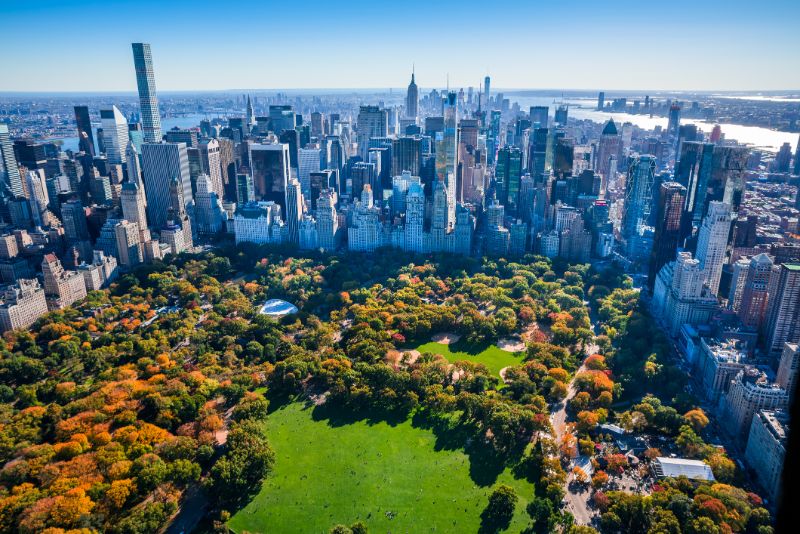 Now that you have a better picture of the lay of the land in NYC, it's time to delve deeper into the neighborhoods — particularly the ones that have great options for luxury condos.
Midtown
Those who desire a central location vis-à-vis the rest of Manhattan often look at homes located in
Midtown
. You'll be just a couple of blocks away from the business district while still within convenient walking distance from a number of public parks. The ritzy
157 West
on 57th street offers breathtaking cityscape views and top-tier amenities. From the unobstructed views of the Manhattan skyline to exceptional services by Park Hyatt and its rejuvenating Spa Nalai, this much coveted condo tower is a slice of paradise right in front of Central Park. Each individual unit is immaculate and fully-furnished with top-of-the-line furniture and appliances for good measure.
Tribeca
Tribeca — short for Triangle Below Canal — is ideal for buyers looking for some of the best multi-million dollar luxury condos, lively cultural spots, and a vintage yet unmistakably upscale vibe. Located near lower Manhattan, the neighborhood is dotted with several warehouses and old industrial buildings that have long been converted into stylish apartments, townhouses, and co-ops. The
Woolworth Tower Residences
is a prominent standout among luxury condos in the area. As one of the most desirable addresses in the neighborhood, Woolworth is a hundred year-old terracotta structure that exudes opulence. Aside from the 33 impeccable condo units, expect to find entertainment spaces, beautiful foyers, and a lavish penthouse suite.
Greenwich Village
Greenwich Village is known for its excellent restaurants, exciting bars, and charming little jazz clubs and theaters, many of which were safe spaces for the 1960s counterculture movement. The neighborhood is noticeably pro LGBTQ+, with plenty of green spaces and pedestrian-friendly streets. Tourists activity and sightseeing is common in West Village, the western portion of the neighborhood which was the main setting of
Sex and the City.
The Greenwich Lane
is a sought-after address that is essentially a collection of five high-end condominium buildings. With an unmatched ensemble of amenities, gorgeous cityscape views, and proximity to top-rated schools, this condo complex attracts a good number of families and single professionals.
Central Park West
Central Park West is among the crème de la crème of exclusive NYC neighborhoods, but it also enjoys great appeal from non-residents. With an assortment of shops, restaurants, elementary schools, as well as the prominent Museum of Natural History, it's easy to see why Central Park West attracts a variety of people. Home to Sting and Denzel Washington, among other notable people,
15 Central Park West
is an architectural landmark. With its iconic limestone facade, the structure is divided into a 19-story and 35-story tower. Many high-profile buyers have this Robert A.M. Stern masterpiece on their shortlist.
Define and refine your buying criteria
As you explore
luxury condos in NYC
, it's essential to carefully consider what you want out of a home. Focusing solely on what a neighborhood is famous for or even the premium price tag may not be the wisest move. When you list down your priorities and non-negotiables, you'll be in a much better position to weigh the pros and cons later on during the real estate journey. And if you're exploring luxury condos in NYC, here's where you can start.
Accessibility
There is no pressing need to own a vehicle if you live in NYC— there are several ways to get in and around this splendid concrete jungle. With well-maintained streets and significant tree canopy coverage throughout, walking to work or strolling to your favorite local coffee shop is a breeze. If that is not an option for you, you can rely on NYC's top notch public transportation system, which ensures everyone can easily get from point A to point B. It's incredibly convenient to take the subway or the bus to where you need to be — especially if you work or live close to economic hubs like Midtown, the Financial District, and Downtown Brooklyn.
Check the maps
from the New York City Metropolitan Transit Authority (MTA) to familiarize yourself with transportation routes. But despite the availability of public transit options, pick a location that works for you and your lifestyle best. Consider all factors affecting accessibility, not just on the neighborhood, but in the condo building as well.
Provenance
There's no shortage of famous people who have, at some point in their lives, lived in NYC. Whether
it's the newly listed penthouse of John Legend
or Gigi Hadid's elegant condo unit at 250 Bowery, you'll find a wide array of dazzling properties that once belonged to notable personalities in NYC. The most particular buyers usually seek out these residences and pay handsomely for the chance to own them. If provenance is important to you, think about hiring a knowledgeable NYC real estate professional who can help you search for these high-profile properties.
Amenities
While owning a luxury condo unit in NYC may have little in the way of disadvantages in the amenities and space department, it's still prudent to exercise a degree of buyer's diligence to get the most out of your investment. Luxury condos in NYC have ample space for premium facilities like fitness gyms, sauna and spas, swimming pools, private restaurants, roof gardens, etc. The challenge lies in choosing a condo with main features that align well with your general preferences, lifestyle, and design sensibilities. Condo owners who never want to be bothered with space-saving measures usually pick a development that offers plenty of storage options. Avid tennis players would make the most out of a development with a full-sized tennis court. For some, an exclusive community library and lounge is an ideal spot for focused reading, some introspection, and great conversations. And for the highly refined buyer, a Porte-Cochère for vehicles, a wine tasting room with designated storage areas, or a grand courtyard, are absolutely essential.
Peace and quiet
Don't let Sinatra fool you into thinking that NYC doesn't have pockets of tranquility and calm. While there is some truth to New York being a city that never sleeps, it's not a loss for those who value peaceful surroundings. If you prefer living in relatively quiet neighborhoods, consider the Upper East Side of Manhattan and Brooklyn heights. Noise complaints in these communities are few and far between. If you want to get a better picture of how often an area can get a bit too loud for your liking, you can check out this
public NYC database
that compiles noise complaints throughout the five boroughs.
Access to outdoor and green spaces
Central Park isn't the one and only option when it comes to outdoor recreation.
There are over 2,700 parks in NYC
— you'll never be far away from green space even if you tried to. But if you are more outdoorsy than most, there are quite a few outdoor spaces that may satisfy your specific standards.
Van Cortlandt Park
is NYC's third largest park, located up north in The Bronx. With extensive hiking trails, picnic areas, a number of sports facilities, and a museum, there's a variety of attractions for the whole family to enjoy. If you love waterfront views,
Pelham Bay Park
has awe-inspiring views of Long Island Sound. As the largest park in NYC (3 times larger than Central Park!), Pelham Bay Park has a range of attractions that visitors frequent, such as the Bronx Equestrian Center, Orchard Beach, and a handful of 18-hole and 9-hole golf courses.
Proximity to food and cultural spots
Whether you have an affinity for culinary adventures or thought-provoking art, NYC has a plethora of places that fit a variety of interests. Although it's fairly easy to get around within the city, you may prefer to be within convenient walking distance from the following places:
Get a better understanding of the real estate market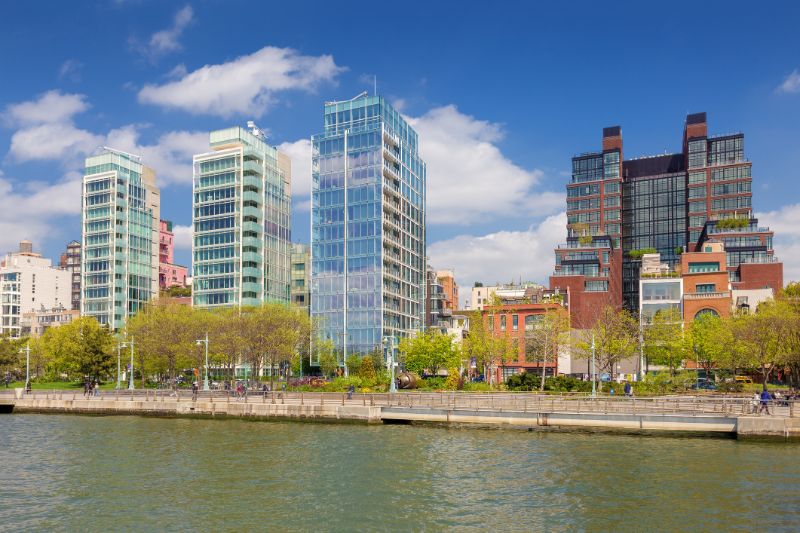 Luxury condos in Manhattan range from $1.5 million to $1.8 million in recent years, but it's not uncommon to find properties that are priced at $3 million or well over $10 million. Price is relatively cheaper in Brooklyn, where you can expect to find condos usually priced between $1.8 million to $4 million. In terms of the overall housing stock, apartment buildings and duplexes of varying sizes make up the vast majority of housing units in New York. Over 60% of residents are renters. This often presents a good investment opportunity for interested buyers who usually opt to rent out their property when they're not occupying it.
Work with an established real estate professional in New York
The advice and guidance of an
establisched NYC real estate professional
are invaluable. As Founder and CEO of IB Global and The Bracha Team at Corcoran,
Ilan Bracha
offers his 20+ years of real estate expertise and knowledge at your disposal. Long considered as a top-producing NYC agent, Ilan has helped close over $2 billion in real estate transactions. He has served some of the most esteemed clients who have a combined asset value of more than $10 billion. Ilan and his team have also advised clients on growing their wealth through strategic property investments in prime real estate locations throughout the world. Moreover, as a valued affiliate of the prestigious
Corcoran Group
, Ilan Bracha has access to a wealth of global real estate expertise and a diverse network of premium listings. Get exclusive access to these vast resources and experience VIP treatment when you work with
Ilan Bracha and his team
. Consider booking a private real estate consultation with Ilan Bracha today. You may reach out by phone at
212.355.3148
or send an email to
ib(at)corcoran(dotted)com
. We look forward to hearing from you and addressing your real estate needs in NYC.