In a city where the land is scarce, the best option is to build upwards. Many skyscrapers in New York used to be constructed as office buildings, but over the past twelve years a trend has emerged of building towers as luxury residential developments. According to National Geographic, prior to 2004 Manhattan housed only 28 skyscrapers that were 700 feet and taller. Since then the city skyline has drastically changed through the addition of thirteen new skyscrapers, fifteen buildings that are currently under construction, and nineteen proposed plans, totaling forty-seven new skyscrapers in all.
Nicknamed Billionaires' Row, West 57th Street in Manhattan is lined with several luxury buildings that have been recently completed or are currently in the works. Completed in 2015, 432 Park Avenue is comprised of 96 floors and is the tallest residential building in the world as it towers over Central Park at 1,396 feet. The Steinway Tower, located at 111 West 57th Street, will rise to be 1,438 feet when it is completed in 2018. A couple buildings over at 225 West 57th Street, the Central Park Tower will have 99 above ground floors and is on pace to becoming the second tallest building in the United States, surpassing Willis Tower in Chicago when it is completed in 2019.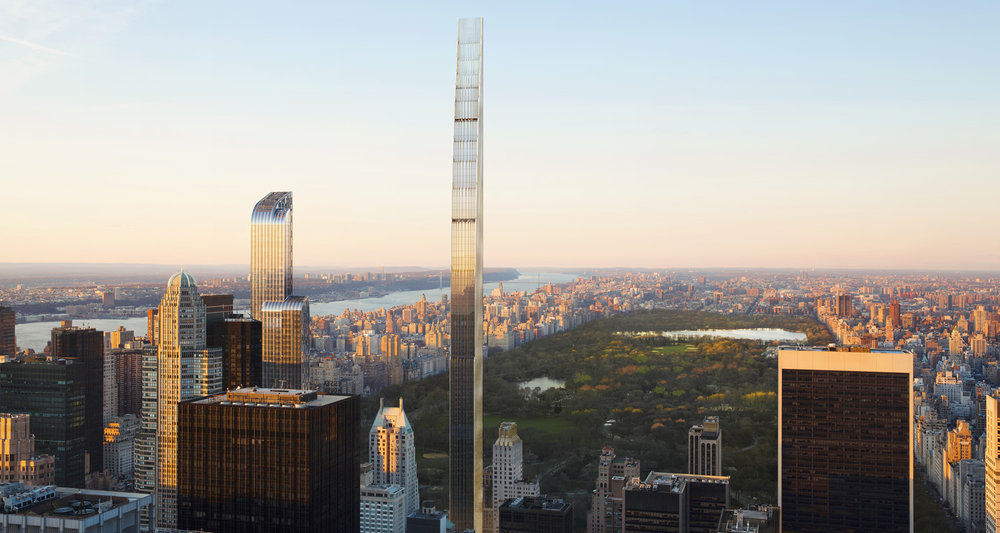 However, the rise of the skyscraper era does not ensure the success of the real estate market. New building applications for residential developments in New York City saw a major lag in 2016. The number of applications has been halved since 2014 and has dropped by 38 percent since 2015. Midway through 2017, the numbers don't look much better. Over fourteen thousand new luxury apartments have been listed on the market since 2015, but by the end of 2017 it is expected that only five thousand of these units will have been sold. With the filing of new building permits still low, the governor and mayor have taken advantage of this opportunity to announce expansions and renovations to public facilities, Penn Station, and LaGuardia Airport.
2014 and 2015 saw record years in terms of issued building permits. Between the two years, there were over 80 thousand permits issued for new housing units. An explanation for the sudden business boom can be attributed to the 421a tax abatement. This tax break is given to real estate developers in order to encourage them to build affordable units. When 421a expired in January 2016, there was an immediate and noticeable difference as many developers made the decision to put their projects on hold. In April 2017, the developer tax exemption was renewed and many experts expect that the city will once again be flooded with building permit requests.
Overall, New York City has seen a steady increase in new developments every year. With the renewal of the 421a tax code, many expect that real estate developers will jump at this opportunity to add their building to the most famous skyline in the world.
Fedak, Nikolai. "2017 New Construction Report". Newyorkyimby.com. 6 January 2017. Web. Accessed 8 June 2017.
"The New New York City Skyline". NationalGeographic.com. Accessed 8 June 2017.
"New York City Construction Projects Reach New Heights". Nycedc.com. 8 June 2017.
Rosenberg, Zoe. "7 Crucial Ways New York City's Landscape Will Change in 2017". Ny.curbed.com. 5 January 2017. Web. Accessed 8 June 2017.